You surely must be knowing about the AICTE Internship platform, which is approved by the Indian government. Internships in Marketing, Finance, Sales, HR, Business Development, Business Analytics, and other fields are available here.
As a result, the AICTE has just announced that 1 lakh+ internship opportunities are available for students who want to jumpstart their careers. Here's about the AICTE 1 Lakh+ Internships Opportunities.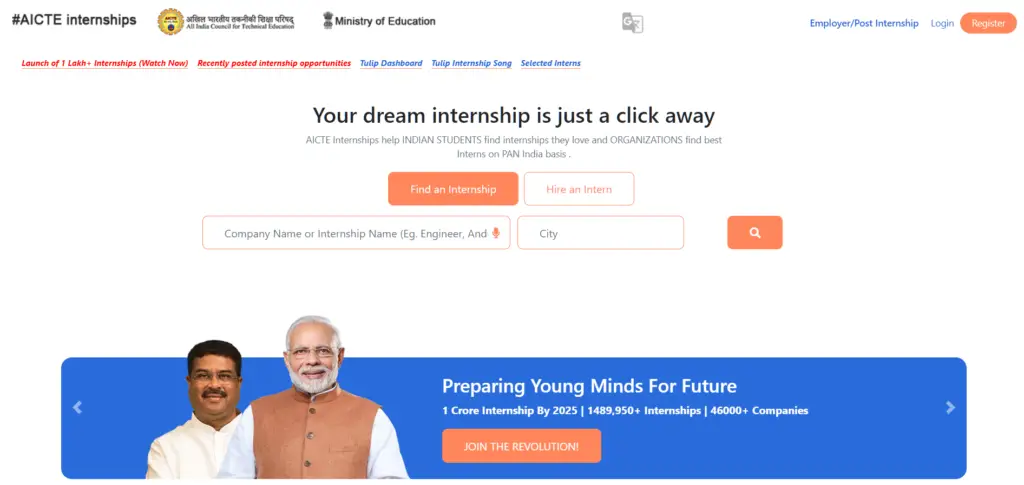 To develop a well-educated workforce The All India Council for Technical Education is a non-profit organization that promotes technical education (AICTE). You can apply for internships if you are a technical student seeking higher education.
The fact that big firms like SalesForce, CISCO, Mahatma Gandhi National Council for Rural Education (MGNCRE), RSB Transmission India Limited, and others have already announced their internship opportunities is noteworthy.
Also read: Top 5 Interview Tips for Freshers : [2022 Edition]
About AICTE 1 Lakh+ Internships Opportunities?
In a recent interview, India's Union Education Minister, Dharmendra Pradhan, remarked, "I must take this opportunity to commend the companies for helping to nation-building." It's excellent that they've taken on the task of educating engineering and humanities students in college."
"We want to raise the Gross Enrolment Ratio from 27% to 65%." With the beginning of this initiative, the wheels of the chariot of the National Educational Policy 2020 have begun to roll,"
AICTE's Current Statistics
There are about 45,000 industries registered on the platform

The 

portal 

has 

almost 

a 

crore 

users 

registered.

There are around 15 lakh internships available.
Tie-Ups of AICTE
AICTE has partnered with the Ministry of Urban Development, the National Highway Authority, the Ministry of Social Justice, NASSCOM, Microsoft, and other commercial firms, with further collaborations in the pipeline, including railways and rural development.
You can check out "how to apply" in this video by AICTE Neat Cell.
Also Read: Top 5 Ways to Make Money For School/ College Student : [Earn $10/Daily] 
Check out this AICTE 1 Lakh+ Internships Opportunities Today!