Video marketing is the future of any company's advertising strategy. In fact, if you don't have a video presence on social media platforms like Facebook and YouTube then your competition will be utilizing this powerful medium for their own purposes! And this all is done in the best video editing software by professionals.
One survey found that 82% of marketers rely on videos when selling products as they provide engagement from viewers which leads them into making purchases (81%). Not only does it help with sales but also shares across different channels such as email newsletters increase by 1200%.
As you can see the demand for video is getting exploded day by day. So, It's natural that the demand for video editors will also increase. But, choosing the right and appropriate software might be confusing for you. So, We're going to tell you the top 5 video editing software for you to start.
5 Best Video Editing Software
1. Adobe Premiere Pro
Adobe Premiere Pro is the perfect choice for professionals and beginners alike. It has a powerful interface that makes it easy to use, while still providing all of your needs as an editor with features such as adjusting video sound or importing graphics into different projects – making this program one versatile tool!
Adobe premiere pro provides everything from color grading videos down to adding special effects in order to create visually stunning content on any device imaginable.
2. Lumen5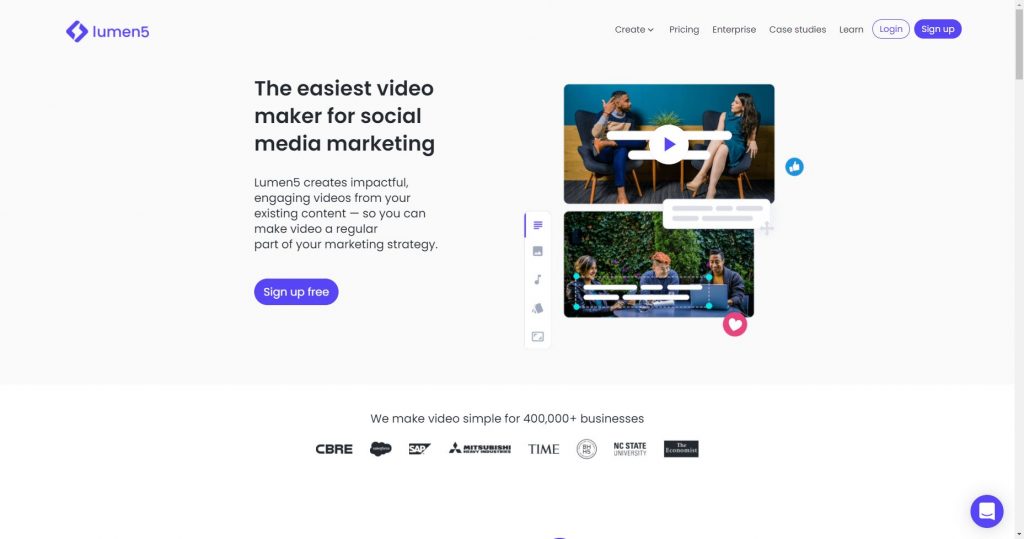 Lumen5 is a powerful video editing software that can turn text into videos. You simply copy and paste your words into the program, which will automatically adjust their size for you! The easy-to-use interface also includes branding features like watermarks or logos as well as free audio files to go along with font choices – all at no cost whatsoever.
3. iMovie
iMovie is a great app for editing videos. This simple, drag-and-drop interface makes adding titles and effects easy to do! With dozens of styles available you can find one that suits your needs perfectly or create something new altogether with soundboards from iFilm's library.
4. HitFilm Express
HitFilm Express is great for beginners who want to make movies at home. It has all the tools you need, even if it's not as powerful or versatile as some other programs out there – but that doesn't mean your videos won't look good!
The free version of this program gives users access to more than enough video editing capabilities with features like composite shot enhancement (which allows them to add effects shots into their own footage), picture-in, etc. You can check out this tool if you're completely new to the video editing field.
5. DaVinci Resolve
DaVinci Resolve is the perfect video editor for beginners with its 8K editing features and more. You can use it offline or online, making this software an affordable choice even if you only plan on using a few tools from within it – but of course, there are many advanced options that professionals will love as well!
The free version offers enough power for most users without any major limitations so get started today by downloading your copy now  - just make sure to check out some tutorials first before taking action because we know how confusing these things can be at first glance.
6. Filmora 
Wondershare's Filmora9 is a fantastic program for beginners, as it has an interface that looks and feels like Adobe products. Once you get going with this app though there are no problems!
With a ton of features to play with, the client is highly intuitive. Options include transitions, effects and so much more! There are also sound enhancement options like keyframing or background noise removal for when you need it done quick. The sharing process has never been easier – just push one button and watch as your video takes shape on every imaginable platform from Facebook live streams all the way down to Instagram Stories.
Conclusion
To find the best video editing software for your needs, look into what you want to do with it. You might need a basic editor that can cut and edit videos quickly or something more advanced like Adobe Premiere Pro which has some of the newest features on the market including motion graphics and transitions. The options we've suggested here should be able to meet any budget, but if they don't feel right then there are plenty more out there waiting for you!